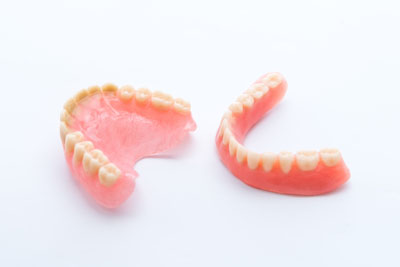 A dental adhesive is a water-soluble, non-toxic material that we can apply to your gums and dentures to hold them in place. These substances are available in powder and cream form, and they are typically used with traditional dentures.
How dental adhesives work
Dental adhesives work similarly to the way saliva attaches itself to your gums and dentures. These adhesives create resistive forces that keep your prosthetic in place. The main difference between the two is the fact that the connection created with dental glues is significantly stronger than the bond created by saliva. Most of these products are activated by saliva or water.
For many denture wearers, dental adhesives improve their satisfaction levels with their prosthetic. The main benefit of using adhesives to keep your dentures in place include:
Increased satisfaction: You spend less time worrying about your dentures when they are firmly held in place with denture glue.

Increased security: Dental adhesives prevent your dentures from slipping out. It also helps to reduce denture adherence for those who suffer from dry mouth.

Increased endurance: The grip dental adhesives create lasts all day and it gives you confidence when you interact with others since it prevents your dentures from disrupting everyday activities like chewing and speaking.
Denture adhesives are not for everyone and every denture issue, so there are times when it is best to stop using them. Sometimes, taking your dentures to the dentist's office is the best course of action. If you are having a hard time getting your dentures to fit properly and are constantly finding yourself using more and more adhesive to make them fit, relining your device is the more efficient option.
You should also discontinue the use of dental adhesives if you find yourself having allergic reactions to the product. People who have a hard time sticking to a solid oral health routine should also avoid dental adhesives since it ends up being one extra thing they have to clean off your teeth.
Other reasons why you should not use dental adhesives include:
Open sores and cuts in your mouth

Poor-fitting dentures

Allergic reactions to dental adhesives

Poor overall oral health

Your dentures are due for a professional evaluation
Not all types of dentures require the use of adhesives. Implant-supported dentures are increasingly popular since they give the wearer a secure fit without the need for a sometimes messy adhesive. Instead of using the space between your mouth and gums to keep this type of prosthetics in place, we can surgically attach implants to your jawbone. We then fit the external facing end of these implants with clamps or sockets to secure the dentures to them.
Why does this all matter?
Dental adhesives can make your experience wearing dentures a lot more pleasant and comfortable.
For more information about adding dental adhesives to your routine or to find out which products are best for you, call us at (573) 346-7278. Our dental office is located in Camdenton. Call Lake Dental Clinic to schedule an appointment or request an appointment here: https://www.lakedentalclinic.com.
---
Related Posts
November 4, 2021
Dentures can give you a beautiful and healthy smile. However, even though dentures can last for many years, the appliances will eventually have to be replaced. But taking proper care of …
---